 Impervious to terrain conditions, the Wabash is the bicycle equivalent to the word "and". Road and Mountain. Pedal and Power. Man and Machine. Rock and Roll!
WABASH GALLERY
If you were waiting for something to inspire you, this is it.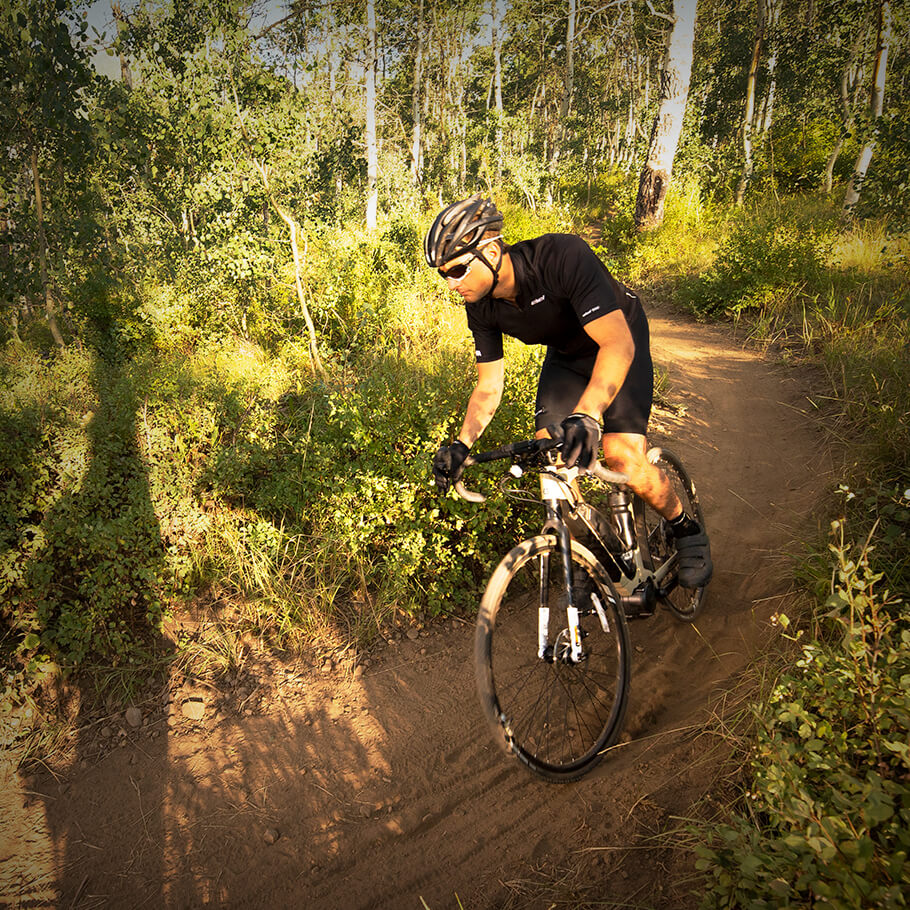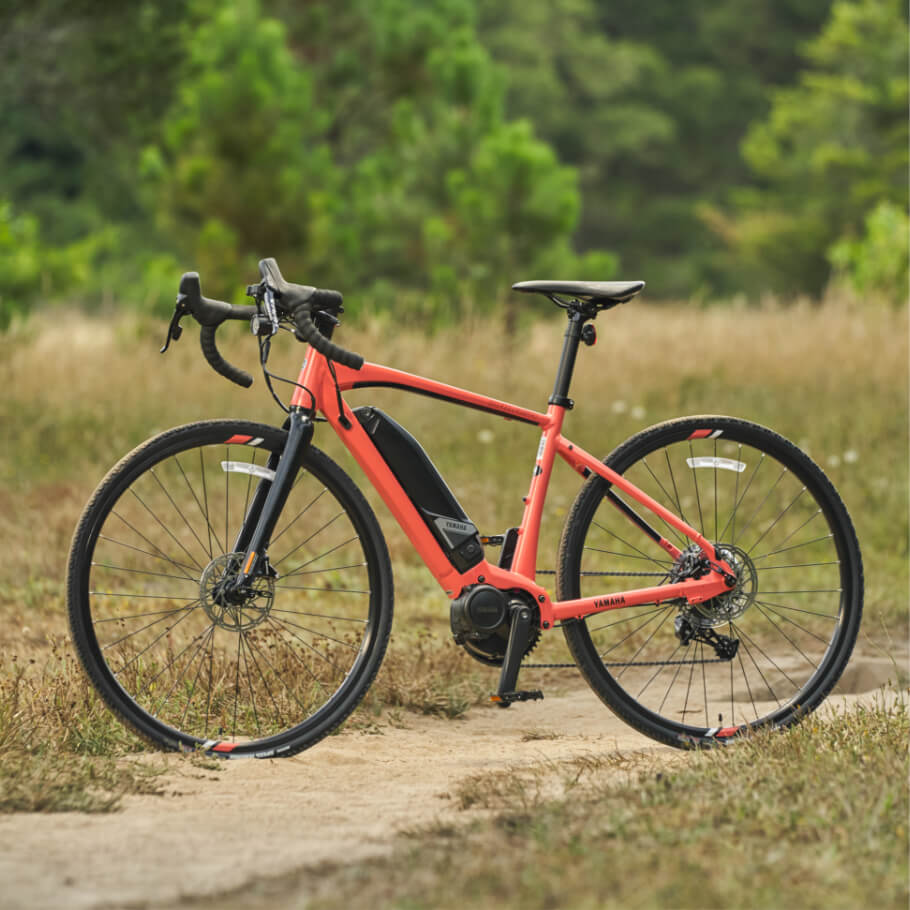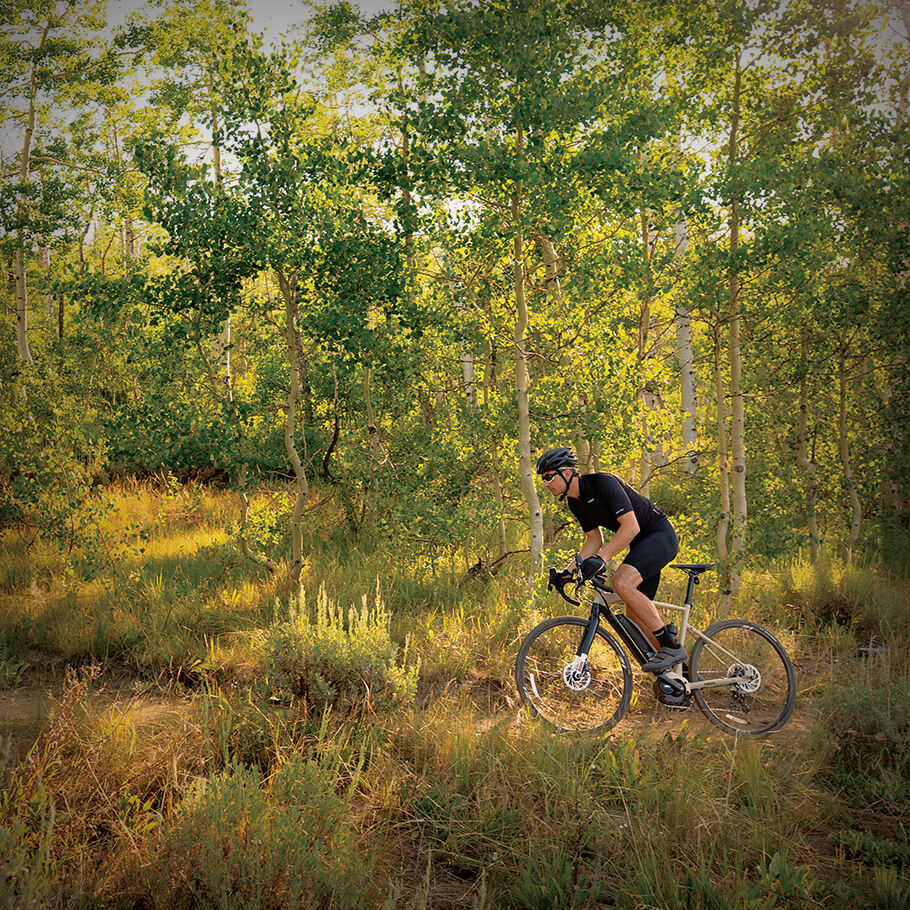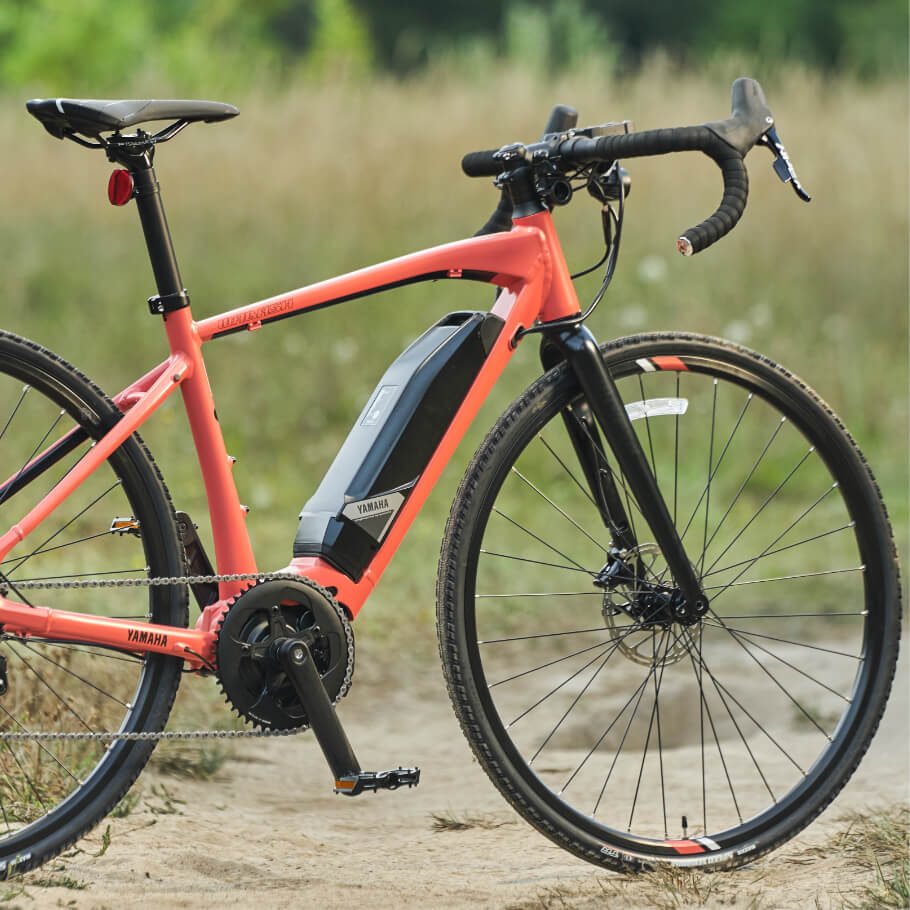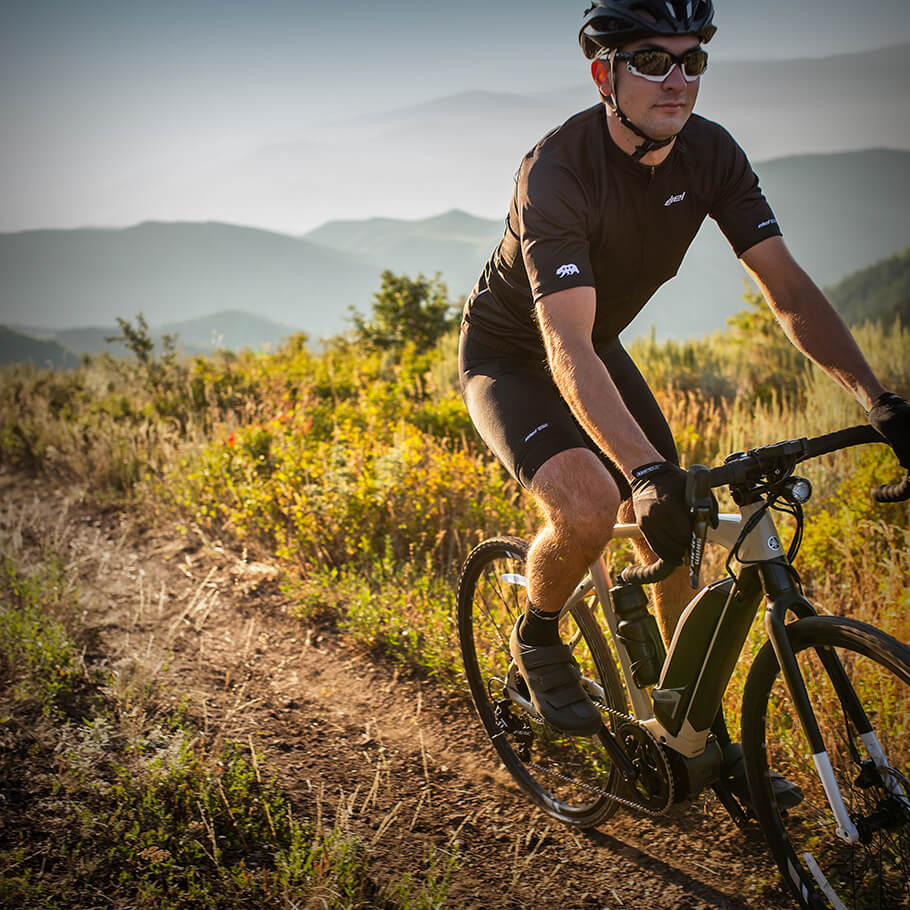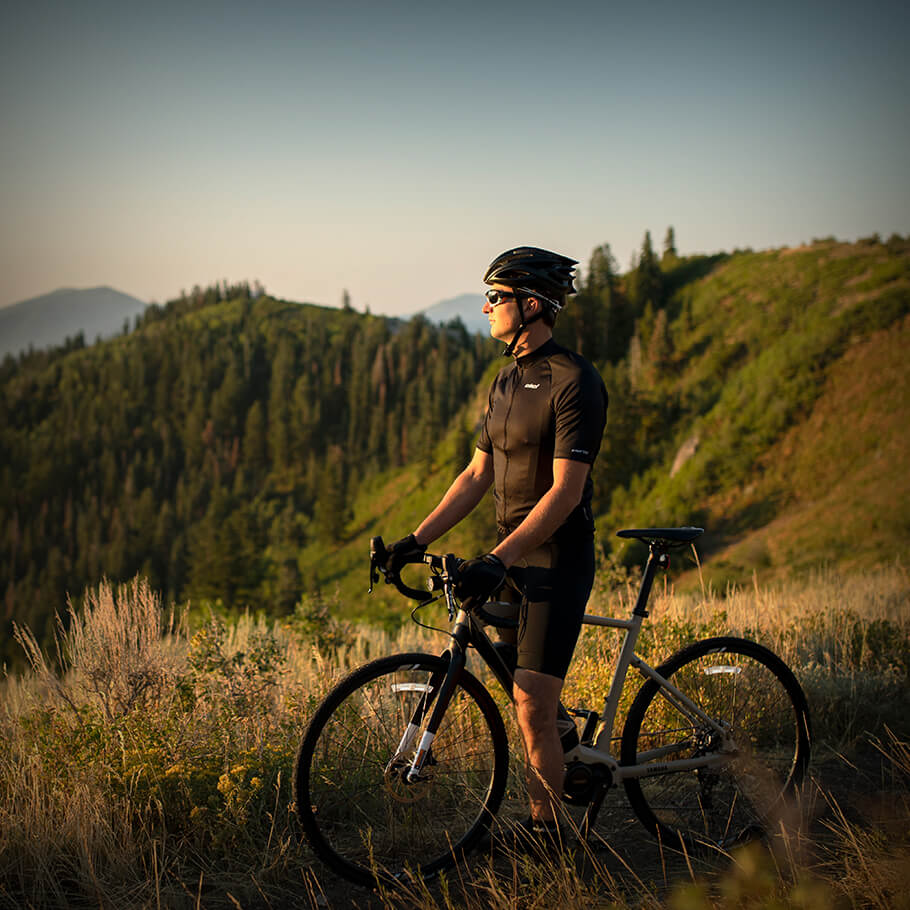 WABASH FEATURES
Purpose driven design to eliminate doubt and inspire confidence.
Flared Handlebar

With inspiration from randonneur designs from an era when exploring on a bicycle was commonplace, our take on this classic design allows for greater stability and control.

Semi-Knobby Tires

Whether riding on or off road, the Maxxis Speed Terrane tires are a balance of straight out speed for the pavement and grippy traction in the corners when getting down and dirty.

Dropper Seat Post Tabs

Just like our YDX-TORC, the Wabash is compatible with dropper posts that are equipped with either internal hose routing or external hose routing actuation.

Rear Rack Mounts

The built-in bosses on Wabash are there to accept Yamaha's accessory rear rack to help dial in your ultimate ride.

Compact Display

The easy to read LCD multi-function display is designed to keep your focus on what's ahead. The main LCD interface allows you to choose from a full suite of functions; Speedometer, average speed, maximum speed, odometer, trip meter, battery capacity, battery range, cadence, clock and stopwatch.

PWSeries SE Drive Unit

At the heart of Wabash is Yamaha's awesome PWSeries SE center mount drive unit. Integrated to the bottom bracket, the drive unit provides a low center of gravity for exceptional handling. The four levels of power assist assure Wabash is adventure ready.

Hydraulic Disc Brakes

SRAM Apex 1 hydraulic road disc brakes with 160mm center lock rotors ensure strong, confident braking in all conditions. Speaking of all conditions, Wabash's fork has mounting tabs for easy installation of Yamaha's accessory front fender.

SRAM APEX™ 1 Rear Derailleur

Wabash's 11-speed shifting duties are handled by SRAM's excellent Apex 1 rear derailleur which is designed to reduce shift force and eliminates ghost shifting.

Integrated Hub Speed Sensor

Exclusive to Yamaha Power Assist Bicycles is a speed sensor engineered into the rear hub. Our speed sensor recognizes the slightest change in bicycle speed and helps adjust motor input to deliver a smooth and natural power assist feel for the ultimate ride experience.

Yamaha 500Wh Battery

Yamaha's 500 Watt-hour Lithium-ion battery pack provides reliable & long lasting energy to power your rides. You can charge the battery pack on or off Wabash using the Yamaha high speed charger.
GEOMETRY
S
| | | |
| --- | --- | --- |
| A | TOP TUBE (mm) | 530 |
| B | REACH LENGTH (mm) | 373 |
| C | STACK HEIGHT (mm) | 548 |
| D | STANDOVER HEIGHT (mm) | 719 |
| E | HEAD TUBE LENGTH (mm) | 130 |
| F | HEAD TUBE ANGLE | 71° |
| G | SEAT TUBE ANGLE | 74° |
| | HANDLEBAR WIDTH (mm) | 400 |
| | CRANK ARM LENGTH (mm) | 165 |
| | SEAT POST LENGTH (mm) | 260 |
| | STEM LENGTH (mm) | 80 |
| | BB DROP (mm) | 61 |
| | REAR CENTER (mm) | 455 |
| | WHEELBASE (mm) | 1039 |
| | SEAT TUBE LENGTH (mm) | 430 |
M
| | | |
| --- | --- | --- |
| A | TOP TUBE | 550 |
| B | REACH LENGTH | 392 |
| C | STACK HEIGHT | 555 |
| D | STANDOVER HEIGHT | 744 |
| E | HEAD TUBE LENGTH | 135 |
| F | HEAD TUBE ANGLE | 72 |
| G | SEAT TUBE ANGLE | 74 |
| | HANDLEBAR WIDTH | 420 |
| | CRANK ARM LENGTH | 170 |
| | SEAT POST LENGTH | 315 |
| | STEM LENGTH | 80 |
| | BB DROP | 61 |
| | REAR CENTER | 455 |
| | WHEELBASE | 1051 |
| | SEAT TUBE LENGTH | 463 |
L
| | | |
| --- | --- | --- |
| A | TOP TUBE | 580 |
| B | REACH LENGTH | 405 |
| C | STACK HEIGHT | 572 |
| D | STANDOVER HEIGHT | 790 |
| E | HEAD TUBE LENGTH | 150 |
| F | HEAD TUBE ANGLE | 72.5 |
| G | SEAT TUBE ANGLE | 73 |
| | HANDLEBAR WIDTH | 420 |
| | CRANK ARM LENGTH | 170 |
| | SEAT POST LENGTH | 350 |
| | STEM LENGTH | 100 |
| | BB DROP | 61 |
| | REAR CENTER | 455 |
| | WHEELBASE | 1064 |
| | SEAT TUBE LENGTH | 530 |
SMALL

MEDIUM

LARGE

A

TOP TUBE (mm)

530

550

580

B

REACH LENGTH (mm)

373

392

405

C

STACK HEIGHT (mm)

548

555

572

D

STANDOVER HEIGHT (mm)

719

744

790

E

HEAD TUBE LENGTH (mm)

130

135

150

F

HEAD TUBE ANGLE

71°

72°

72.5°

G

SEAT TUBE ANGLE

74°

74°

73°

HANDLEBAR WIDTH (mm)

400

420

420

CRANK ARM LENGTH (mm)

165

170

170

SEAT POST LENGTH (mm)

260

315

350

STEM LENGTH (mm)

80

80

100

BB DROP (mm)

61

61

61

REAR CENTER (mm)

455

455

455

WHEELBASE (mm)

1039

1051

1064

SEAT TUBE LENGTH (mm)

430

463

530
GEOMETRY & SIZING
S
| | | |
| --- | --- | --- |
| A | TOP TUBE (mm) | 530 |
| B | REACH LENGTH (mm) | 373 |
| C | STACK HEIGHT (mm) | 548 |
| D | STANDOVER HEIGHT (mm) | 719 |
| E | HEAD TUBE LENGTH (mm) | 130 |
| F | HEAD TUBE ANGLE | 71° |
| G | SEAT TUBE ANGLE | 74° |
| | HANDLEBAR WIDTH (mm) | 400 |
| | CRANK ARM LENGTH (mm) | 165 |
| | SEAT POST LENGTH (mm) | 260 |
| | STEM LENGTH (mm) | 80 |
| | BB DROP (mm) | 61 |
| | REAR CENTER (mm) | 455 |
| | WHEELBASE (mm) | 1039 |
| | SEAT TUBE LENGTH (mm) | 430 |
M
| | | |
| --- | --- | --- |
| A | TOP TUBE | 550 |
| B | REACH LENGTH | 392 |
| C | STACK HEIGHT | 555 |
| D | STANDOVER HEIGHT | 744 |
| E | HEAD TUBE LENGTH | 135 |
| F | HEAD TUBE ANGLE | 72 |
| G | SEAT TUBE ANGLE | 74 |
| | HANDLEBAR WIDTH | 420 |
| | CRANK ARM LENGTH | 170 |
| | SEAT POST LENGTH | 315 |
| | STEM LENGTH | 80 |
| | BB DROP | 61 |
| | REAR CENTER | 455 |
| | WHEELBASE | 1051 |
| | SEAT TUBE LENGTH | 463 |
L
| | | |
| --- | --- | --- |
| A | TOP TUBE | 580 |
| B | REACH LENGTH | 405 |
| C | STACK HEIGHT | 572 |
| D | STANDOVER HEIGHT | 790 |
| E | HEAD TUBE LENGTH | 150 |
| F | HEAD TUBE ANGLE | 72.5 |
| G | SEAT TUBE ANGLE | 73 |
| | HANDLEBAR WIDTH | 420 |
| | CRANK ARM LENGTH | 170 |
| | SEAT POST LENGTH | 350 |
| | STEM LENGTH | 100 |
| | BB DROP | 61 |
| | REAR CENTER | 455 |
| | WHEELBASE | 1064 |
| | SEAT TUBE LENGTH | 530 |
SMALL

MEDIUM

LARGE

A

TOP TUBE (mm)

530

550

580

B

REACH LENGTH (mm)

373

392

405

C

STACK HEIGHT (mm)

548

555

572

D

STANDOVER HEIGHT (mm)

719

744

790

E

HEAD TUBE LENGTH (mm)

130

135

150

F

HEAD TUBE ANGLE

71°

72°

72.5°

G

SEAT TUBE ANGLE

74°

74°

73°

HANDLEBAR WIDTH (mm)

400

420

420

CRANK ARM LENGTH (mm)

165

170

170

SEAT POST LENGTH (mm)

260

315

350

STEM LENGTH (mm)

80

80

100

BB DROP (mm)

61

61

61

REAR CENTER (mm)

455

455

455

WHEELBASE (mm)

1039

1051

1064

SEAT TUBE LENGTH (mm)

430

463

530
EXPLORE ALL ROAD YAMAHA POWER ASSIST MODELS